Over the past several days, I have had the opportunity to talk with a great many Delegates to the convention this weekend. With every conversation, I am more excited about our opportunity in 2016 to actually make America better. I understand the time and effort by Libertarian Party members that has built the foundation on which we now proudly stand — and I deeply appreciate those years of work and dedication.
As we all head to Orlando for the convention, I want to take a moment to personally invite you to come by Salon I at the convention facility to talk with me. I know many have questions to ask, and I want to answer them.
All of the media hype and speculation is great, but I know that this nominating convention is about you and me. It's about you deciding who will be the Libertarian Party's candidates for President and Vice-President of the United States. That is a serious decision, and I want to insure that any questions or concerns you might have are answered.  
Likewise, I will be at the Delegates-only gathering Friday evening hosted by Governor Johnson. It will be in the Grand Ballroom, and should be a great opportunity to visit.
I am determined to earn your support for the Vice-Presidential nomination, and look forward to seeing you in Orlando!
P.S Take a look at my newest video below.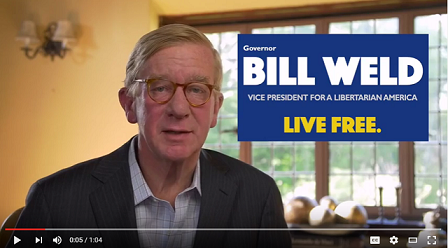 PAID FOR BY GARY JOHNSON 2016
__._,_.___